Hilton Tucson East Hotel
32.21975

,

-110.83039
98US$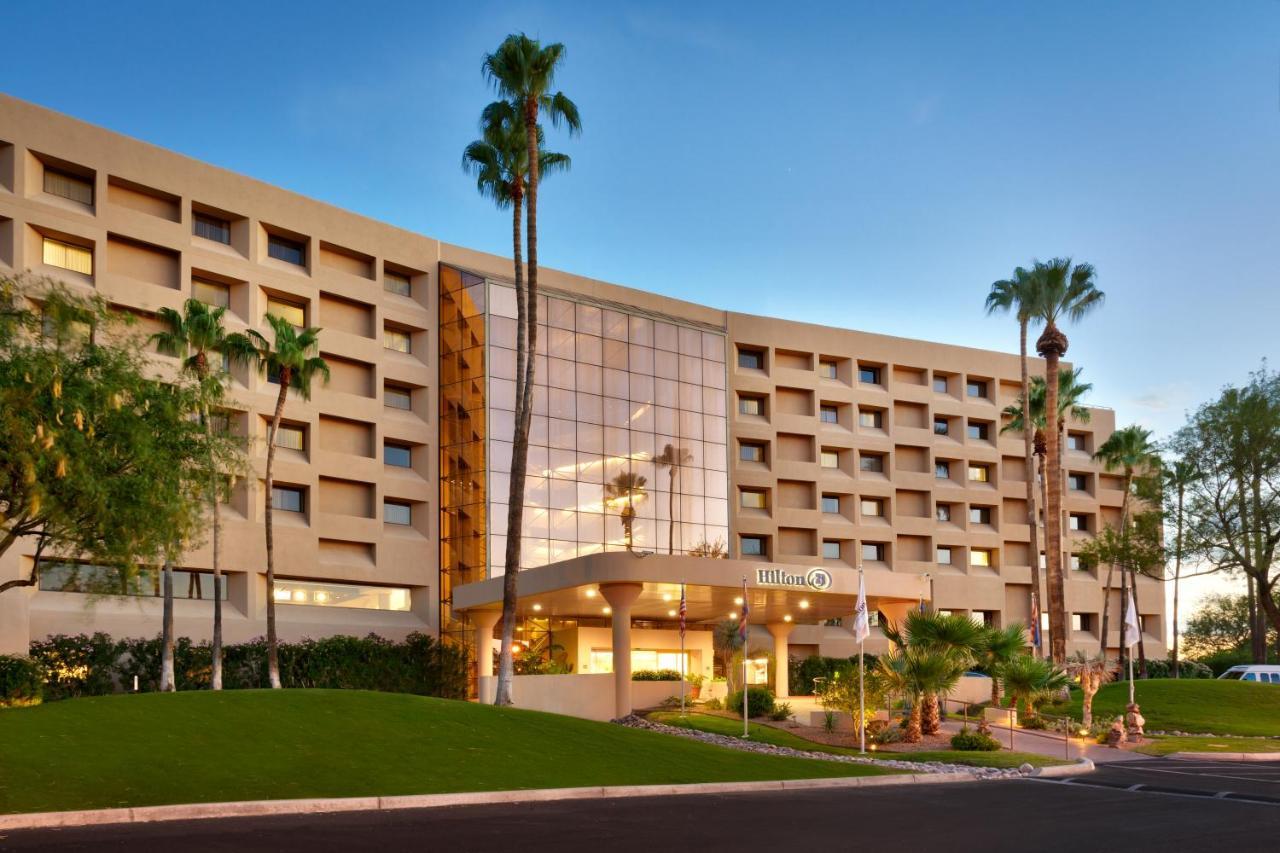 Address
7600 East Broadway
,
Tucson
,
Arizona
,
United States
,
85710-3705
, Arizona
Overview
Placed within 2.4 miles of a shopping hub like the historical outdoor shopping center "Trail Dust Town", the 3-star Hilton Tucson East provides guests with a storage for belongings and a restaurant. This Tucson hotel offers laundry facilities and ironing as well as an elevator and a vending machine.
Location
Stefan Gollob Park is close to the hotel, while Broadway/Prudence bus station is 950 feet away. Hilton Tucson East Tucson is stationed within 3.6 miles of Fort Lowell Museum. Cultural experience in the area feature Museum of the Horse Soldier, situated within 2.4 miles of this Tucson property.
Rooms
Some rooms have private bathrooms with a bath and showers. Some rooms enjoy views of the mountain.
Eat & Drink
Guests can also enjoy American food at Culver's located nearby, it is 650 feet away.
A full breakfast is served at the price of US$18.95 per person per day. 
Leisure & Business
A swimming pool and a golf course are available at additional cost as well. Beach facilities at The Hilton Tucson East include lounge chairs and umbrellas. You can join in with hiking and cycling available on site.
Internet
Wireless internet is available in the entire hotel for free.
Guest Parking
Private parking is possible on site at USD 10 per day.
Year renovated:   2009.  Number of floors:   7.  Number of rooms:   232.
Best-Rated Hilton Hotels & Resorts Hotels around Tucson
"Hilton Hotels & Resorts prides itself on offering guests excellence in hospitality, boasting a luxurious atmosphere and unparalleled service that caters to every whim. From indulgent spa treatments, gourmet cuisine, and state-of-the-art fitness facilities, to stunning locations and events facilities - Hilton Hotels & Resorts ensures that every stay is unforgettable. Choose Hilton Hotels & Resorts for an unrivaled experience of opulence and extravagance."
37 reviews

135$ / night

217 reviews

135$ / night

2054 reviews

123$ / night

34 reviews

103$ / night

1691 reviews

155$ / night

153 reviews

105$ / night

239 reviews

134$ / night

2011 reviews

136$ / night
Facilities
Most popular facilities
24-hour services
24-hour reception
24-hour security
Food/ Drinks
Bar/ Lounge area
Restaurant
Welcome drink
Snack bar
Coffee shop
General
Wi-Fi
Parking
Baggage storage
24-hour services
Food/ Drinks
Shuttle
Fitness/ Gym
Swimming pool
Sports & Fitness
Fitness center
Snowsports
Hiking
Cycling
Tennis court
Golf course
Racquetball
Services
Free shuttle service
Room service
Housekeeping
Laundry
Dry cleaning
Welcome drink
Dining
In-room breakfast
Restaurant
Snack bar
Bar/ Lounge area
Business
Business center
Meeting/ Banquet facilities
Fax/Photocopying
Children
Children's buffet
Children's play area
Game room
Spa & Leisure
Outdoor swimming pool
Beach umbrellas
Sun loungers
Casino
Leisure/ TV room
Spa & wellness center
Jacuzzi
Room features
In-room air conditioning
Heating
In-room safe
Mini-bar
Sitting area
Tea and coffee facilities
Ironing facilities
Bathroom
Bath/ Shower
Hair dryer
Free toiletries
Media
Flat-screen TV
Direct dial telephone
AM/FM alarm clock
Good to know
Check-in
from 16:00-23:00
FREE
Check-out
until 11 am
FREE
Children & extra beds
There are no cribs provided in a room. 
Pets
Pets are allowed on request.
Rooms and availability

Bed options:

Max:

2 persons
King Room Mobility accessible

Bed options:

Max:

3 persons
Executive One-Bedroom Suite

Bed options:

Max:

3 persons
Location
7600 East Broadway
,
Tucson
,
Arizona
,
United States
,
85710-3705
, Arizona
City landmarks
Nearby
Restaurants
Hotels nearby
7200 E Tanque Verde Rd
Morris K Udall Park and Recreation Center
2.1 mi
Stefan Gollob Park
2700 ft
Church
Christ Community Church
2600 ft
Church
St Pauls United Methodist Church
3300 ft
Church
Palo Verde Church of Christ
3900 ft
Glad Tidings Church
4600 ft
Church
Glad Tidings Assembly of God
4600 ft
Church
Fountain Of Life Lutheran Church & School
4700 ft
Century Gateway 12
1.1 mi
Church
Saguaro Christian Church
4900 ft
Church
The Church of Jesus Christ of Latter-day Saints
5000 ft
Moments To Remember
5200 ft
Skate Country East
1.1 mi
Filipino American Christian Fellowship of Tucson
1.1 mi
Church
Tucson Fellowship Bible Church
1.1 mi
St. Joseph's Medical Center
1.5 mi
Church
Christ Presbyterian Church of Tucson
1.3 mi
Morris K Udall Regional Park
1.9 mi
Brunswick Camino Seco Bowl
1.4 mi
Airmen Memorial Bridge
1.6 mi
Stefan Gollob Park
2700 ft
Church
St Pauls United Methodist Church
3200 ft
Church
Palo Verde Church of Christ
3900 ft
Restaurant
The Bowl Asian Kitchen
4000 ft
Getting around
Airports
Tucson International

(TUS)
13.2 mi
Pinal Airpark (MZJ)
39.5 mi
You can book a shuttle, once your reservation is complete.
Reviews of Hilton Tucson East
William

Our Xmas stay at this hotel was great! The beds were so comfy and the staff was helpful and friendly. The pool and spa area were amazing, and we loved spending time there. The location was perfect as we could easily visit nearby attractions. The breakfast was delicious and the room service was prompt. The presence of a little gym was fantastic, and we could work out whenever we wanted.

However, there were a few issues that dampened our experience. The elevators were slow, and we had to wait for a long time every time we needed to use them. Also, we could not find any recycle bins, which made us wonder about the hotel's environmental policies. On the whole, we had a great stay, and we recommend the hotel for anyone looking for a comfortable, convenient, and cozy Xmas stay!

Victoria

First of all, they provided two complimentary drinks, which was great after a long day at work. Also, the location was central and close to the restaurants and shops. The room had plenty of space and comfortable beds, which made for a good night's rest.

The elevators were extremely slow and malfunctioning. The staff seemed to be aware, but no solution was given. Moreover, the bathroom was very small and cramped, making it difficult to move around. In addition, the wifi was spotty and frustrating to connect to. These negative aspects made my stay less than satisfactory.

Douglas

The room is spotless with an exceptionally comfortable bed and pillows. The best thing is location - near to Tucson and Saguaro National Park and the Catalina Mountains.

David

The hotel is conveniently located near attractions and has a shuttle service. There are many options for leisure activities, such as a gym, a pool, and a lounge. The rooms are spacious with comfortable beds and great views of the surrounding area.

The breakfast buffet could use better attention to replenishing items.

Christian

The in-house restaurant is great place to hang out, especially for breakfast.

Spencer

The bed was very comfy, the room was brand-new and updated with a comfortable bed. Location: the hotel was just next door to the center and Pima Air museum. It also was to Park Place mall.

James

This hotel was perfect place for exploring Tucson, appreciated it and property's helpful and efficient staff at the reception desk. The room was both updated and brand-new with nice view, a comfortable bed. The in-house restaurant food was superb.

Jason

During our Thanksgiving vacation, we had two complementary bottles of water waiting for us in our well-appointed room. The hotel is conveniently located on a major road through the city, making it easy to get around. The pool area was definitely a highlight, with a nice hot tub that was perfect for relaxing.

There were some negative aspects to our stay. The staff occasionally treated me with a bit of attitude, possibly because of my age. There were also some noise incidents in the lobby that woke us up at night, and the laundry room was out of service for our entire stay. Additionally, there were quite a few flies in the lobby and pool area, which made it difficult to enjoy those spaces.

Richard

I was there for 2 nights and ate at in-house restaurant especially for breakfast. The location was magnificent, within walking distance of Stefan Gollob Park. Moreover, the area was great.

Carey Cleland

The hotel was very clean and I loved how you have remodeled the bar and dining area. The room was comfortable for my wife and I, the bed seemed like a cheap mattress and thank God there were no bed bugs!

Easy to find and the parking was great. The bar and restaurant are great. The room was very clean and there were no bed bugs to be found.

It is difficult to make a U-turn on Broadway if you want to travel west, there needs to be a stoplight in front of the hotel. The room was comfortable for an overnight stay but I needed a blanket for the bed and could not find one.

missing

The clerks at the front desk were helpful.

The hot tub had floating pieces of bark in it. It was too cold to swim in the outdoor pool. The place was overpriced. There was no refrigerator in the room (had to pay extra for it).

missing

We are seniors and find it easy to get to our room. Parking lot is too far tho. Needed a shuttle ride,but this hotel has none

Need shuttle from parking lot to front door for elderly and disabled folks

missing

Very pleasant 3-night stay. Restaurant has good food as well.

Hot tub is by a blooming tree, so it was full of flower petals. A quick cleaning by staff would have been appreciated.

missing

We loved the continental breakfast with fruit and the reception time with snacks and complimentary drinks. The suite was roomy and had a balcony which was very nice to look out at the mountains. The bed and pillows were very comfortable. The staff at the reception desk for very helpful, they even provided a scale so we could weigh our baggage.

The things we did were downtown and in northern Tuscon mostly so it was a drive back to the hotel. The room was quiet except for a humming noise that we couldn't figure out, it would come from the walls on the regular intervals.

missing

Staff was friendly and nice.

We ordered room service for breakfast and we were very disappointed in the quality of the food. One order was missing the bacon, the other missing sausage and the potatoes were extremely undercooked and eggs over cooked. The staff was very nice and comped the meal.
FAQ about Hilton Tucson East
Which attractions can we visit during our stay in the 3-star Hilton Tucson East?
You can always visit one of the highly rated landmarks, Golf N' Stuff Family Fun Center, placed 2.4 miles away from the 3-star Hilton Tucson East. Other sights that are worth your while are Fort Lowell Museum (3.6 miles) as well as Jesse Owens Park (1.5 miles).
Can I leave my car in the Hilton Tucson East parking lot for free?
Yes, at the Hilton Tucson East a public parking is provided onsite free.
What is check-in and check-out time at Hilton Tucson East?
Guests of Hilton Tucson East can check in from 4 PM to 11 PM and check out from 11 AM.
Which facilities are offered in the rooms of the welcoming 3-star Hilton Tucson East?
Most rooms of the welcoming 3-star Hilton Tucson East include an adjoining terrace and a balcony as well as free WiFi and a flat-screen TV with satellite channels.
Are there any business facilities featured at the hotel?
Yes, for business travelers the hotel provides printers and a photocopy machine.
Which facilities are provided in the Tucson hotel?
The Tucson hotel includes such facilities as an ATM and an elevator, whereas guests' safety will be ensured with a safety deposit box and a fire extinguisher.
What spa facilities are provided at the 3-star Hilton Tucson East?
Spa facilities in the 3-star Hilton Tucson East include a Jacuzzi, a whirlpool tub and an outdoor swimming pool.
Is there a bar at the 3-star Hilton Tucson East?
Guests of the 3-star Hilton Tucson East can have drinks at the hotel's bar Vistas, which received an impressive score of 4 according to guests' reviews.